Hey gang. I have been lurking here on the forums for a bit of time now, reading up and planning my UDS project. Last week I finally found someone with a food safe drum in good shape and made the hour and a half ride out to pick it up.
Unfortunately, the drum has ribs on the top and bottom half right where I'd imagine the handles and vents are suppose to go: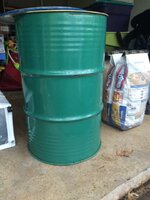 The handles are a 'nice to have' and I can live without them if I need to, but I'm concerned about the vents. There is 2.5 inches of flat area between the bottom lip and the 1st band of ribbing. Am I going to be able to fit the vents between them or am i SOL?
Sorry if this has come up before, but searching on 'ribs' on this forum turns up quite a few results