I've been researching UDS's and the BPS kit specifically for a few months on and off, trying to figure out if I had the time to source a drum and deal with the burn-out, drilling, and painting effort (and I'm in the city so the burn could be a problem). Finally decided that life is short and on the time vs. money spectrum I have less of the former, so I pulled the trigger.
Just got my Big Poppa Smokers kit + stainless drum from Bubba's Barrels. Arrived on Friday and I assembled Saturday morning... what a beauty!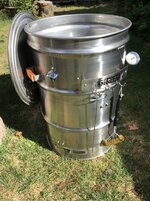 (This was "Used drum", "drill it for me", "I need a kit" options)
Misc feedback on the kit:

Generally it rocks!
all the hardware is good quality stainless, no missing parts
nice wood handles
directions were reasonable, but geared mostly toward the drilling vs. assembly... still pretty easy to put together.
One exception was the backing of the vent slides, they were not bent to the radius of the drum so I had to do that by hand and as a result are not quite tight to the side. Also, that makes it so the slides are not smooth. I think I can bang it into shape but will take a bit of work/time.
it would be good to recommend some form of casters/dolly, I've got this on order: Amazon.com: Milwaukee Hand Trucks 40146 55-Gallon Drum Dolly: Home Improvement
and drum:

Generally super happy!
shipped quickly - ordered Sunday the 18th, arrived (from TN to ME) on Friday the 23rd.
arrived wrapped in plastic but otherwise no external box or protection
1 big dent in the side (see pics) but otherwise super nice, way better than expected for a "used drum"
Note I was able to pound out the dent w/a rubber mallet fairly easily and I'm likely not to notice it anymore, so no real harm done.
BPS kit was basically all loosely dropped inside the barrel, no real packing at all.... it's all SS so it was basically OK but made me concerned at first. I'd suggest maybe strapping it down to the bottom of the barrel or something, rather than just letting it roll around
Holes were all well drilled and lined up with 1 exception - the holes for the flared tips of the backing for the vent slides were too close in and i had to bend them out to fit. Not a functional problem, and I almost wonder if it was intentional to make them "pop out" a bit, but meh.
I gave it a good wash w/soapy water, banged out the dent, and ready to assemble.
No need to really burn-in, but did a kickoff/seasoning burn anyway just to be safe (but see below about "bailing" half way and cooking...)
So... after assembly, I was planning to just do an initial seasoning burn, and loaded about 1/2 full basket of briquettes and filled a center well w/maybe a dozen from the weber chimney starter. After the bad smoke cleared in about 30mins, let it ride around 325 for a couple hrs and all was looking great. Took a peek and realizing there was still 1/2 of that 1/2 basket left, decided to go ahead and throw dinner on there - bone-in chicken breasts and some fresh brats. About 1.5hrs later the chicken was fantastic: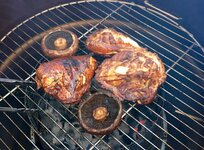 and I still had enough burn to do a round of vegetables (pepper + onion skewers, mushrooms, and asparagus). So I have no doubts that a full basket will last a good 8+ hrs at a lower burn (250F or so).
Today I stoked it up again w/a full basket. Took a good hour or so for me to get the temp dialed in around 250-275, but I'm sure I'll get the hang of it, and since then has been very steady. Ribs are underway, I'll post a followup on those and some more pics later.
So far I'm super happy with the drum, the BPS kit, and drum smoking in general. I'd like to thank Bubba's, BPS, and the drumsmoking.com community for all the help and insights as I kick off a new hobby/skill/obsession. I'm looking forward to stepping up the game and doing some brisket and pork shoulder soon!
-b.